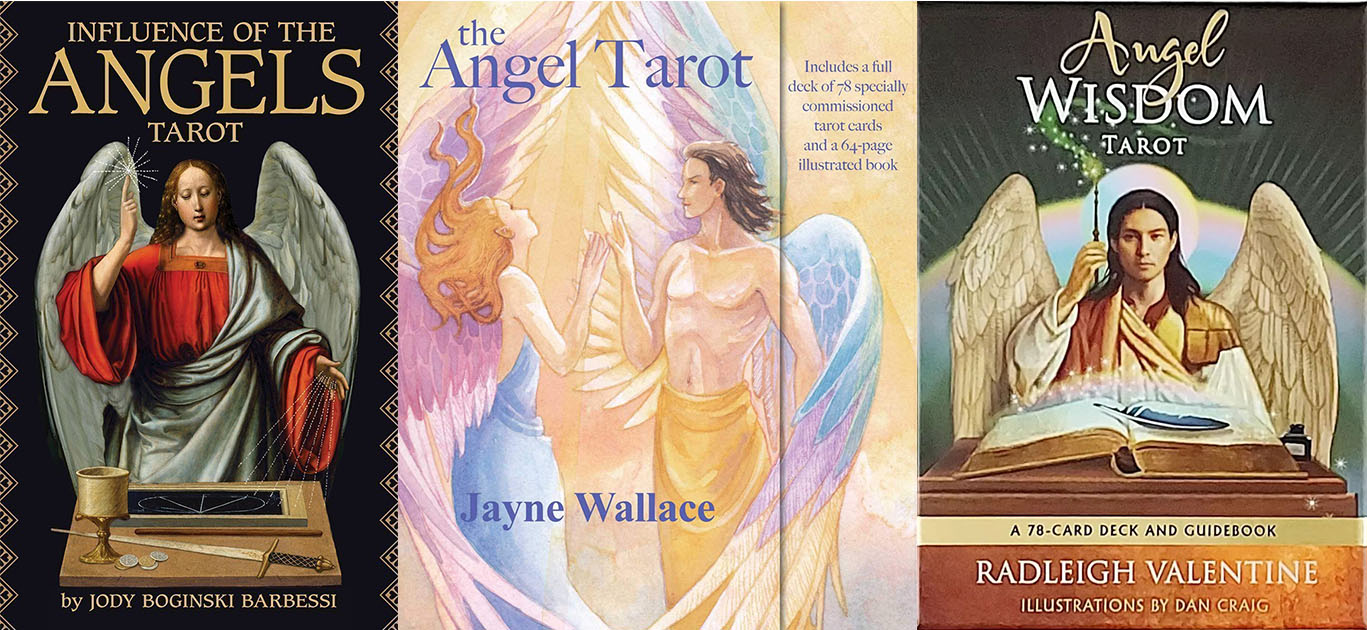 Angel tarot cards are powerful divination tools for seeking guidance from the angelic realm. These are oracle decks that contain 78 cards and are designed to be read similar to tarot cards. When used as a tarot card, the angel card will have a specific message along with the full reading to create an even deeper reading experience with powerful spiritual implications.
Angel tarot cards provide an efficient way to connect to your celestial friends. They're easier to use and interpret compared to traditional tarot cards. They also carry a generally positive vibe and can be used by both beginners and expert psychics alike.
In this article, we review 3 of the best options you can consider if you're looking to get helpful and insightful angel tarot cards for guidance, divination, or meditation.
Angel Wisdom Tarot by Radleigh Valentine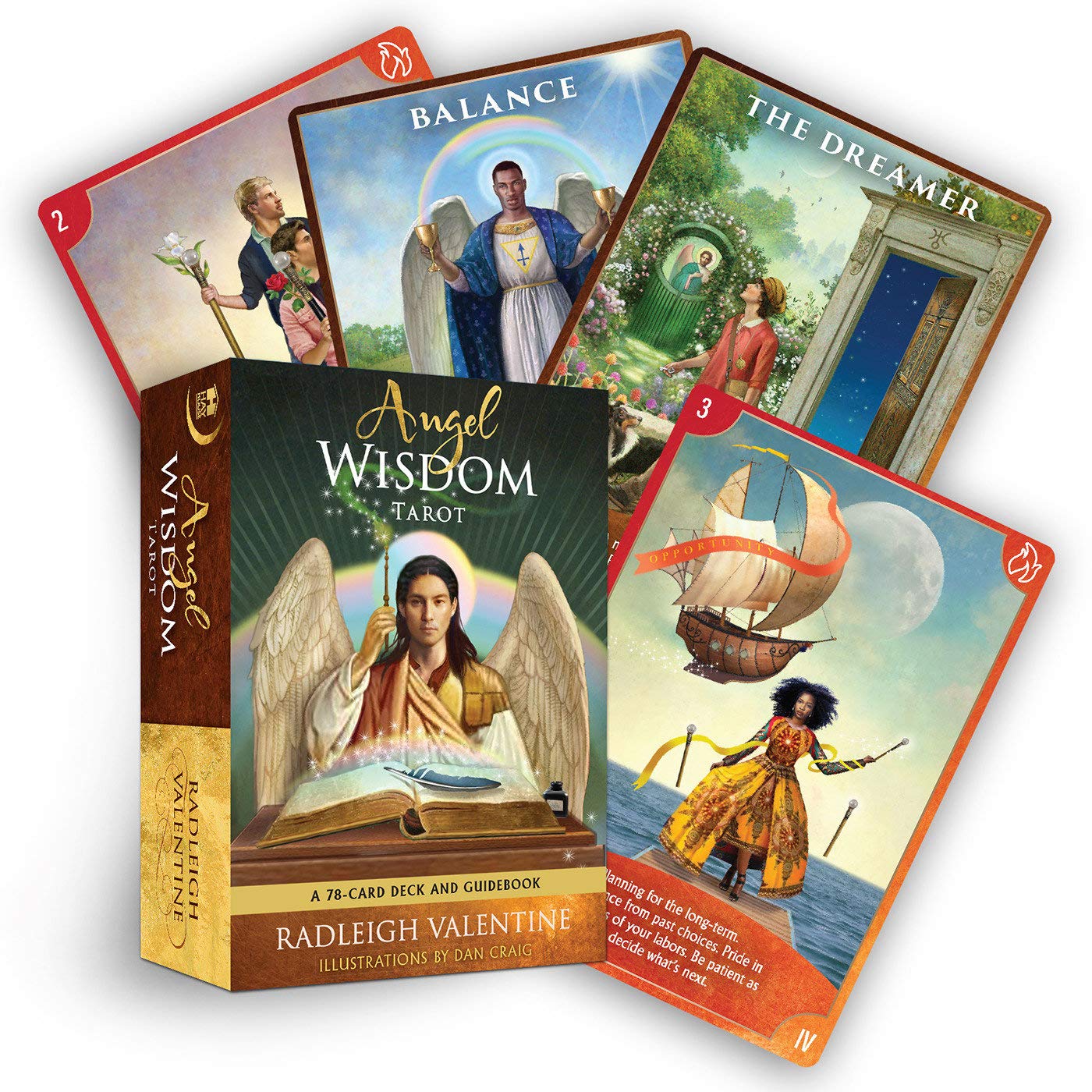 The New Angel Wisdom Tarot deck is a 78-card deck from best-selling author Radleigh Valentine. This deck and the guidebook that comes with it is an ultra-modern interpretation of traditional tarot messages. Each card in the deck contains a contemporary depiction of classic tarot imagery and character
This deck is a more uplifting twist to the traditional tarot deck. You'll find things that aren't present on regular tarot decks on these cards as well as more familiar features. Angel cards tend to have deep mystical meaning with a generally more positive vibe. The cards draw upon the wisdom of the archangels to help you seek guidance from the divine.
The Angel Wisdom Tarot deck contains fully illustrated cards. All the cards contain lavish imagery with rich symbolism. The cards themselves are a larger size compared to most decks which makes them easier to use. They also have a matte and slick finish which makes the deck easier to shuffle.
The beautiful cards can be read intuitively on your own or with the help of the guidebook that comes with the deck. The guidebook provides detailed information about the letters on each Angel card as well as the grouping and Celtic spread of the cards in great detail. The entire guidebook is quite thorough, however, you may still read the cards and understand the message without it especially if you're already familiar with tarot decks.
Influence Of The Angels Tarot by Jody Boginski Barbessi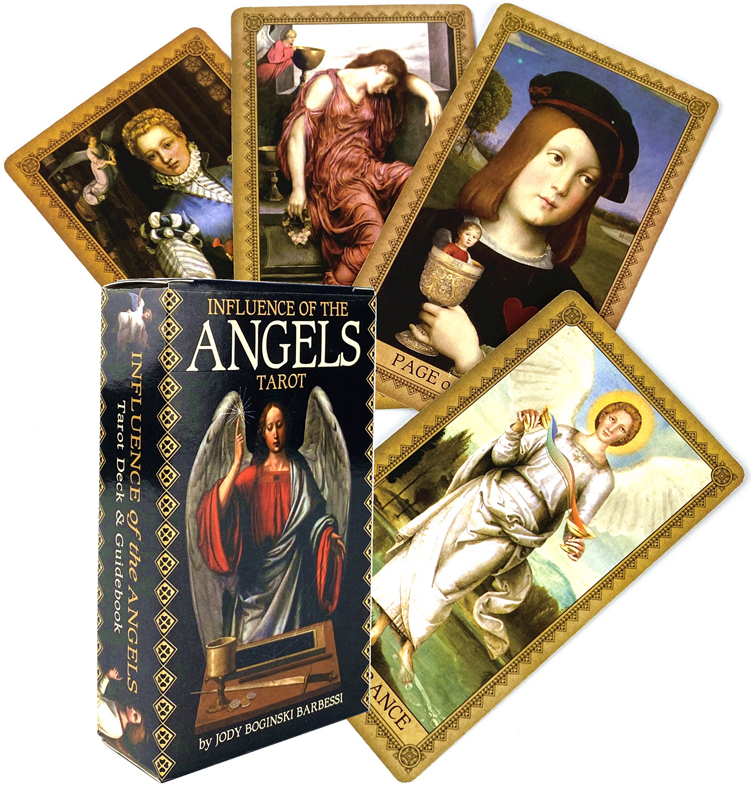 The Influence of the Angels Tarot deck is a classic-inspired piece of art containing 78-tarot cards and a full 84-page illustrated guidebook. The entire set is a well-packaged deluxe box with beautiful gold foil accents. The cards contain gorgeous and elaborate imagery that draws inspiration from traditional tarot cards but are also unique both in design and interpretation. Each card in the deck has sleek gilded edges which give it a luxurious appearance and an exotic feel.
If you want to learn about the spiritual influence on your daily experience, this card deck and book portray it perfectly. They're the perfect way to get beautiful messages both for yourself and for others. In addition to the normal 78 cards in the deck, there are two bonus reference cards in the deck.
The guidebook makes interpreting the cards very easy. In this book, you will find the direct meaning and shadow meaning of any card you draw. The book also provides further information about the angelic message on each card.
In addition to information that pertains to each card in the deck, the book also contains cool facts about angelic figures and the imagery that surrounds them-serving as a general information guide that gives a whole new depth to angel tarot cards. You'll find this very informative and enlightening.
The Angel Tarot by Jayne Wallace
This is a full deck of angel tarot cards with 78 specially commissioned cards. It comes with a 64-page fully-illustrated book that provides further insights about your reading and messages on the card. This deck is Jayne Wallace's first Angel Tarot deck, especially designed for those in need of daily guidance from the angelic realms.
Each card in the deck contains positive messages that provide insight, healing, and guidance about various aspects of a person's life. They're effective for connecting with heaven's wisdom as a way to make decisions in the present with clarity, to look into the future, or seek insight about the past.
The angel cards can also be used for meditation and angelic affirmation for those seeking strength and support in their everyday life. You can also use them to manifest a wish depending on the spread you use. Both novices and tarot experts will find the card helpful.
The accompanying guidebook is quite insightful as well. This book will teach you six different ways the cards can be laid out for a reading. It also contains details about how the reading should be interpreted, as well as the specific meaning and interpretation behind the images and symbols on each card.