If you're the type to meditate, write your journal, or do yoga early in the morning, you can add an oracle card reading to your morning routine. However, if you're not a morning person, you can still draw a card from your angel card decks of choice at any time of the day. Your guardian angels are always around you and you can connect with them whenever you feel the need to.
Angel oracle cards are powerful spiritual tools that you can call on as part of your daily spiritual rituals. They can be used by anyone in search of guidance and insights for their day. As you go about your day, connecting with your guardian angels can reveal your path towards whatever you're manifesting.
If you're in need of guidance for your day and you're looking to buy angel card decks that you can use daily, here are 3 that we highly recommend.
Daily Guidance from Your Angels Oracle Cards by Doreen Virtue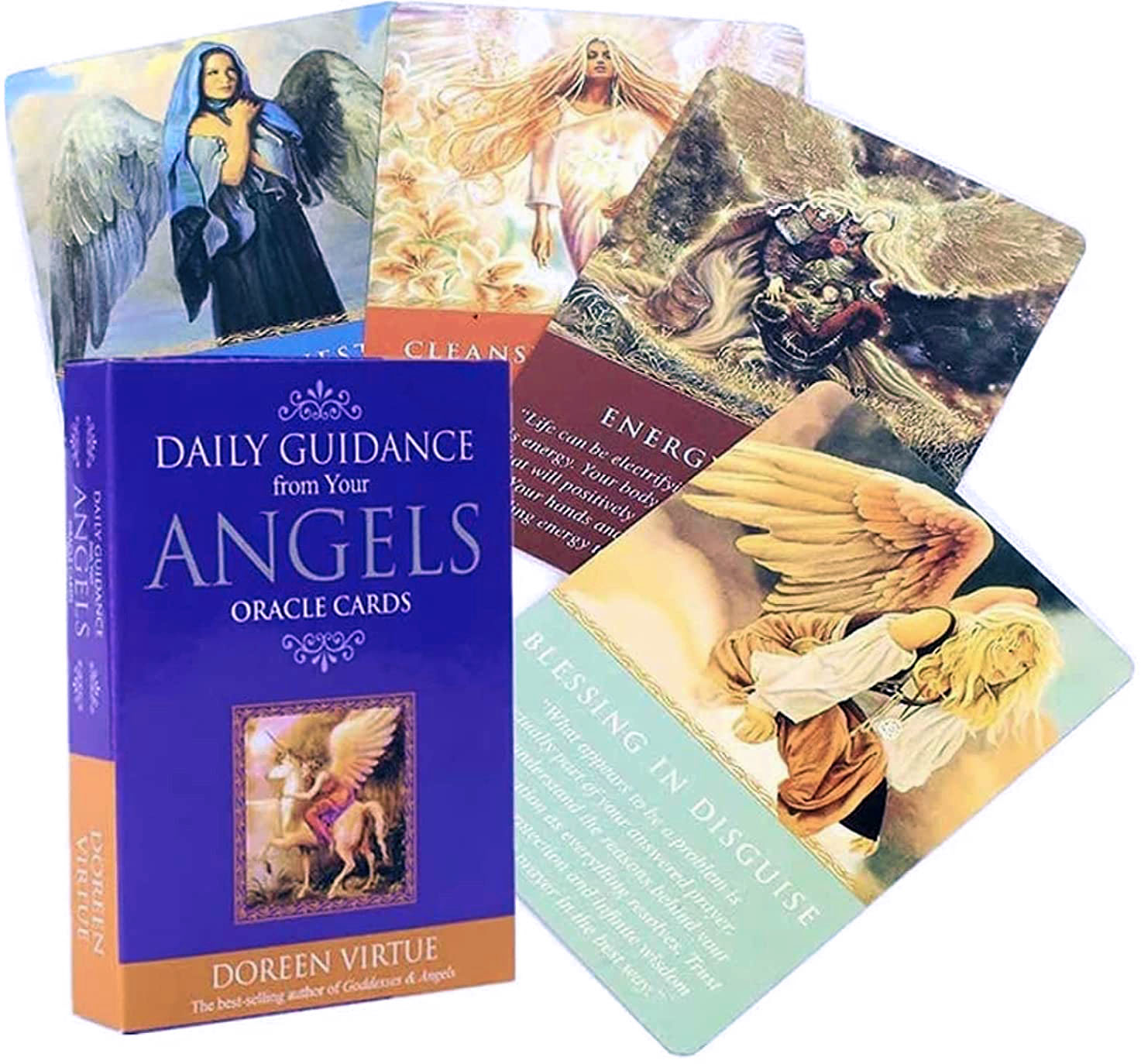 This 44-card deck is filled with uplifting and insightful messages meant to guide a person through the day. Taking a reading of these angel cards before starting off your day sets a healing tone for the entire day thanks to the positive messages on the card.
As far as design goes each card measures about 5 inches tall and 3 ½ inches in width. They are quite thick and they have a beautiful design. The artwork is impressive as well and there's shiny gold on the outside of the card which makes it even more attractive.
The entire deck is focused on daily peacefulness and healing for an individual's entire day. Regular reading will help users stay focused with an assurance of having their angle beside them the entire day. The cards can also be used by psychic and those who practice divination. You can get answers to your questions and the card promises guidance to a high degree of accuracy.
This angel card deck also comes with a 98-page guidebook that provides further details about the meaning of each card in the deck. This makes it even easier to understand what the card says and how it applies to you. The guidebook also includes additional notes and details about the artwork.
Healing With The Angels Oracle Cards by Doreen Virtue
This one's a bit of an oldie, but it's golden. There are 44 cards in this deck, each with a message and an angelic answer from your guardian angel about healing various aspects of your life.
The angel imagery on the cards are lovely and the cards themselves are of great quality. You can choose one card from the deck per day for meditation purposes. The cards can also be drawn for guidance when you need to make a major decision or simply for general guidance about your life.
There are messages of wisdom on each card that will guide you through everyday and may also help you decide on the right course of action regarding any problem. One of the best things about this healing with the angels oracle card is that there are no negative messages on the card. Angels always counsel with love and you will surely get no negativity from a reading with these cards.
The deck comes with a guidebook that explains the meaning of the message on each card. The guidebook will also teach you how to take readings both for yourself and for other people. You'll also find additional messages about healing and angles in the enclosed guidebook.
The Original Angel Cards by Kathy Tyler and Joy Drake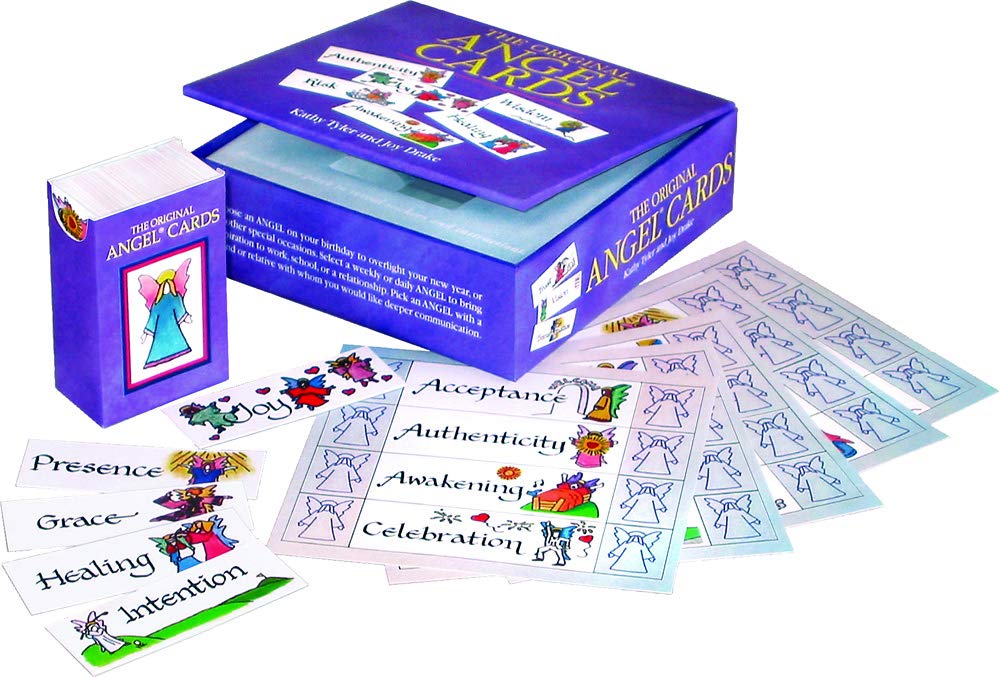 Even if you don't read cards avidly but would like to seek divine guidance for your day, you can still make use of Angel oracle cards. A simple deck like this one from Kathy Tyler is perfect for beginners in need of daily divine messages to keep them on track.
Both the artwork and messages on this deck of cards are simple and straight to the point which is what makes them easy for anyone to understand. Psychics and experienced card readers may also find this deck a perfect light addition to their collection. The deck is an international best-seller with over 1.3 million sold in 6 languages.
The original version of this card deck which was produced in 1981 contained a pack of 52 cards. This extended version has 20 additional cards and 20 bonus stickers. They're pocket-sized which makes them quite easy to carry with you. The card comes in a sturdy, flip-top box which can be used for storing and selecting cards.
All the cards are filled with positive messages with joyful vibration. This deck does not come with a guidebook, but the sweet little messages on the card are easy enough to understand. You can also check the meaning of each card you pull online for further insight.